Creating Smokefree Homes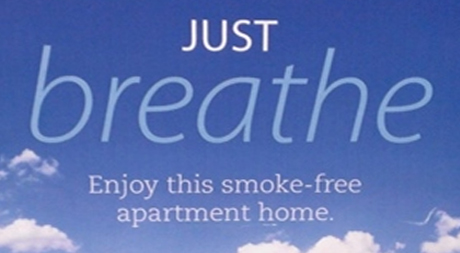 Breathe DC is proud to advocate for the adoption of smokefree housing policies in communities throughout the District. Like our local and national partners in this important work, we believe that smokefree homes mean healthier living environments for nonsmokers and smokers alike.
Why do DC residents need Smokefree Homes and Housing?
According to the U.S. Census Bureau, there are over 260,000 occupied housing units in the District, of which 61% are multi-dwelling properties (2 or more units in the building). The U.S. Surgeon General has concluded that breathing even a little secondhand smoke poses a health risk and that there is no risk-free level of exposure to secondhand smoke. Furthermore, the Surgeon General concluded that secondhand smoke causes lung cancer, heart disease and triggers acute effects including coughing, wheezing, breathlessness, and brief exposure to secondhand smoke can trigger an asthma attack in children with asthma.
Secondhand smoke can cause sudden infant death syndrome and other health consequences in infants and children. And, while separating smokers from nonsmokers may produce the appearance of cleaner air, actual cleaning of the air and ventilating buildings cannot fully eliminate secondhand smoke exposure, according to the American Society of Heating, Refrigerating and Air-Conditioning Engineers (ASHRAE), the preeminent U.S. standard-setting body on ventilation issues.  The only way to ensure healthier indoor air quality free from secondhand smoke is to create smokefree indoor environments.  Perhaps nowhere is the need more urgent than in the District, where significant lung health disparities exist, high rates of smoking persist and childhood asthma occurs at a rate 60% above the national average. In a study of asthmatic children who visit the Emergency Room at Children's National Medical Center 63% of the children were reported to have a family member who smokes in their home.  Also, with heart disease and cancer being the two leading causes of death in the District, it is imperative that smoking, a primary cause of such conditions, is limited as much as possible in and around home environments. Breathe DC will implement evidence-based strategies during its Smokefree Multi-Unit Housing campaign to address the high rates of chronic diseases that exist in the District and reduce effects of secondhand smoke.
What can you do to promote Smokefree Homes and Housing?
We invite you to join us in building stronger, healthier communities through smokefree homes. Right now we are working with several tenant groups and the DC Housing Authority to expand smokefree public housing policies. We are also seeking support to establish a multiunit smokefree housing program targeting apartments, condominiums and co-ops in the District.
If you're interested in learning more about our efforts, sign up for our mailing list.
To learn about how to get a Smokefree Housing campaign going in your community, email us for more information or visit the Americans for Nonsmokers' Rights website for tools and resources.