Take Action! January is National Radon Action Month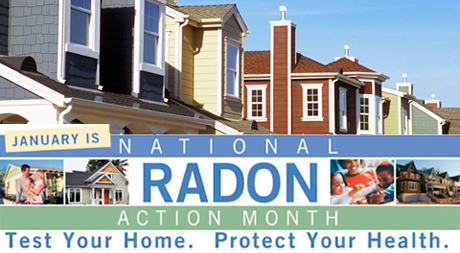 The U.S. Environmental Protection Agency (EPA) has designated January as National Radon Action Month. Throughout January, and all year long, the EPA is urging residents of communities across the country to learn more about the national effort to take action against radon. They also encourage homeowners to get a radon gas inspection done within their home, as it is best to be safe than sorry. This isn't something people should have to live with, especially if there is a way to prevent it.
to have a home inspection and repair any radon leaks they might have, more effort should be put in to radon awareness considering radon gas was known to be cancerous since the 1950's.
Visit the EPA National Radon Action Month web page for tips, tools, resources and information:
Discover ways to reduce your risk of lung cancer during National Radon Action Month
Learn how to reduce your family's risk of lung cancer
Find links to local radon information and more
Learn four easy things you as homeowners, renters, and parents can do to take action in January
EPA National Radon Action Month > GO TO THE SITE